Ingersoll Rand air compressor released the second generation of new energy-saving micro-oil screw air compressor
On the day of the Ingersoll Rand air compressor new product launch, Xu Xiaofeng, member of the Standing Committee of Wujiang District Committee, deputy secretary of the Party Working Committee of Wujiang Economic and Technological Development Zone, Du Jianhua, deputy director of Wujiang Economic and Technological Development Zone Management Committee, Ingersoll Rand Compression Technology and Service Asia Pacific Li Yi, vice president and general manager of the district, Rolf Paeper, vice president of global product management and marketing for Ingersoll Rand compression technology and services, and more than 400 guests from the distributors in the Asia Pacific region of the division gathered in Wujiang Tongli Lake The resort celebrates the release of new products.

Today, industrial energy conservation has become a top priority in national energy conservation efforts. Air compressor systems can be widely used in many important industries, such as steel, smelting, petrochemical, mining, infrastructure, food, light industry, textiles, etc. According to the data of Wind Information, the annual power consumption of the air compressor system accounts for about 9% of the total power generation in the country, and the energy saving rate of the air compressor system is 25% (the energy saving rate of the air compressor system can generally reach 15). %-40%) Estimated that the market size of China's air compressor system energy-saving services sector increased by more than 36% from 2010 to 2014. As China's industrial level has reached a new level of development, the scale of the air compressor system energy conservation market will continue to rise steadily. Therefore, how to promote the technological advancement and management efficiency improvement of the air compressor system is crucial for promoting industrial restructuring, optimization and upgrading, and developing a green and low-carbon economy.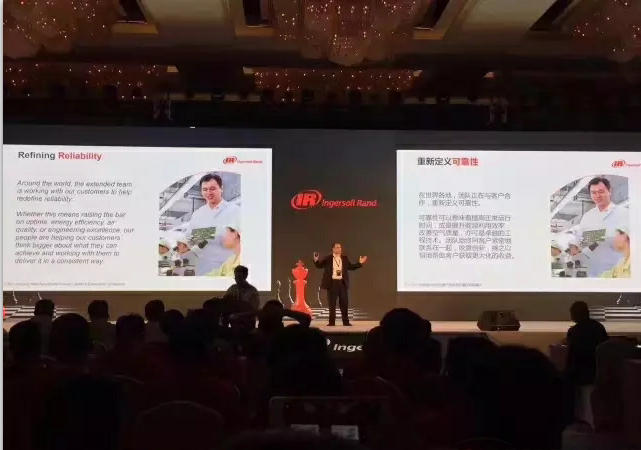 "Ingersoll Rand as a compression system and service provider has always responded positively to the industry's energy-efficient needs and low-carbon economy development, constantly improving the upgrading of products and improving its energy efficiency performance." Ingersoll Rand Compression Technology and Services Asia Pacific Deputy President Li Yi said, "China's manufacturing industry is undergoing industrial upgrading, and the future market is a market for energy-efficient and energy-saving products. Ingersoll Rand is going to do more than just provide equipment to customers, but also ensure that customers use us. The products and services greatly improve the efficiency of the company.

At present, Ingersoll Rand air compressors have been included in Ingersoll Rand's "Second Generation" new series of products, which will provide reliable services for customers who need 7*24 hours of operation and need a large amount of high quality compressed air. The internal test results show that compared with the old models, the air compressors with energy efficiency and design improvement can save customers up to 185,000 yuan per year of energy consumption per unit. Each "second generation" new series Ingersoll Rand air compressors are equipped with a host that is tailored to improve overall system efficiency, and are available in newer versions of single and two-stage versions. Among them, the two-level host is a brand new host product on the market, and the energy efficiency is good.